We try to answer your queries. Please ask us for the same for more information
Questions about Paragliding in Bir Billing
Paragliding Season details
Tandem paragliding at Bir Billing open from October to June and subject to weather conditions. Any can fly without any prior experience, once can enjoy amazing views of Kangra valley, Oak forest and snow covered peaks of Himalaya's. No previous training required.
Can I fly with my family and friend in paragliding ?
There is only one guest can fly with one paragliding pilot. Guests fly one by one with their respected pilots as per wind conditions and all have different flying time. No one can fly with wife, kid or pet animals.
Use of Mobile Phones & Cameras during Paragliding?
Guests can carry mobile phone , valets with them during paragliding flight but you can hand over to pilots during flight for safety . One can also use their camera and phone for photography but carefully as its unsafe to use it in air.
Photo & Video options during Paragliding?
Pilots offer guests optional photo and video of GOPRO with HD quality. Once can pay to pilots for GOPRO video INR 500 and DSLR pictures for INR 200/- from pilots.
I have more questions about Bir and paragliding !
What happens if it rains or snow on the day of paragliding?
If Paragliding team decide wind and weather is not appropriate for paragliding, you will be informed before paragliding flight. This is sometime last minute decision for safety of Paragliding pilot and guest flying along.
One can reschedule its flying to next day or cancel it and get full refund.
I have no previous experience of Paragliding?
Most of the guests travelling have no prior experience and this is perfectly fine. Pilot flying with you is certified from Himachal Tourism and experienced. Pilot will brief you thoroughly before you take off of Paragliding.
Can my family watch me fly in para glider?
Other members visiting Bir Billing and not doing paragliding can wait at Paragliding landing area. Landing area have view of Takeoff  point and have many eateries around.
Pick-up Point & Transport ?
Hotel Paul Manor is Pick up point at Chougan Chowk at Paragliding Landing area diversion point. We offer complementary 16 km drive to paragliding take off point from Hotel Paul Manor.
Landing is somewhere 1.5 km from Hotel Paul manor. This 1.5 km is leveled walk through Tibetan colony area having lot of café's. Monasteries and Tibetan colony
Age & Weight allowed for Paragliding?
Take-off & Landing points at Bir Billing?
Guests need to run for couple of steps during take-off in slope of Billing,  glider fills with air and makes glider carry weight of gusts and pilot both during flight in air.
At landing guests need to follow pilots instruction to keep your legs properly for safe landing at Bir.
What to bring or carry for Paragliding?
Dress up as per weather condition on the day of Paragliding. Proper shoes, jacket and long pants for all weather conditions. One can wear cap, Sunglasses as per your preference for Paragliding at Bir Billing.
Blogs and Information about Bir- Billing
Latest Posts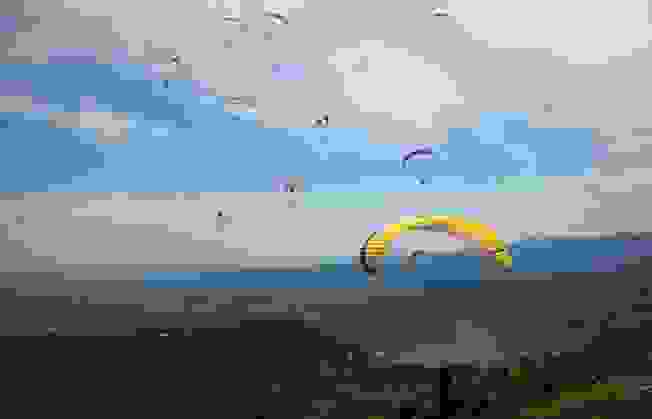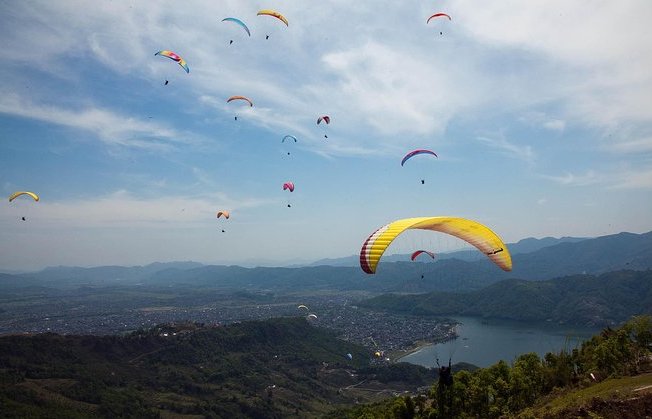 Evolution of Paragliding. Paragliding is an aero sport of flying parachutes in air. Parachutes specially designed in such a way to increase the aero gliding
Read more
Bir-Billing :- Destination of Culture, Adventure, Tribal and Unexplored. Bir-Billing is small village of Himachal Pradesh. Himachal is northern state of India located 550 km
Read more
Guests Review
This trek was life changing for me. It taught me how insignificant we are but how invaluable we can be. Right from fitness to mental strength, it was a great learning experience.This trek will always be the best trek for me.
Thanks to TRAVEL BIR BILLING team.
Just visited this place, had an amazing experience, each day was a memorable day, the scenic beauty was just mesmerizing, will visit this place again and again
Scenic, himachal rich culture and have great fun …one of the best trekking experience to hot water spring
..
Amazing Trekking experience to Hot water springing Bir Billing trek is easy to moderate. Camp Oak View for stay is one of the best we sated in camps till now, meal was mouth watering, Best is Amazon – camp German Shepahrd dog and best for hosipatlity by Joginder at Camp, Hike to near by point for sunset point