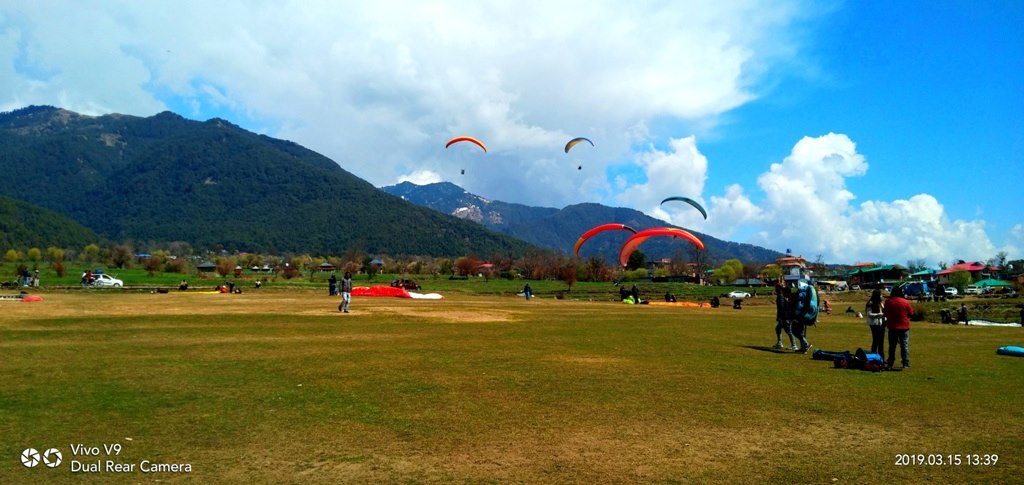 Things to do around Camp Oak View, Bir Billing – Paragliding.
Paragliding session in Bir
Best place to experience paragliding is Bir-Billing. One can do different session of paragliding in the valley.
| | | | | |
| --- | --- | --- | --- | --- |
| S.no | Paragliding Name | Time duration of paragliding | Per person Price | Season for Paragliding activity |
| 1 | Normal session of Paragliding | 15 min to 30 min Paragliding session |   2000/- Per person | October to June |
| 2 | Medium session of paragliding | 30 min to 45 min Paragliding session |   4000/- Per person | October to mid June |
| 3 | Long session of paragliding | 45 min to 60 min Paragliding session |  5500/-  Per person | Mid October – Mid Dec and |
| 4 | Cross country session of Paragliding | 60 min to 120 min Paragliding session | 10000/- Per person | Mid October to Mid Dec and Mid Feb to Mid April. |
Hike to Sunset Point near old local house in Bir Billing:-
Bir village and Small hike through village trail crossing two small streams and two small village houses. View from sunset point is towards Palampur having view of Palpung Sherabling monastery, Garh mata view, Asha puri devi towers view, Dhouladhar mountain range and valley in front. Sunset in winters in Palampur valley and towards Dhouladhar mountain range in summers. One can see sunset from there and return back to camp Oak View before dark.
Hike to Bari village, Bir.
Trek is 3-4 km from Camp Oak view passing through Oak, Rhododendron and Oak forest. Trekking is through connecting village trail. Trek trail through Dhanadi and Bari village. Trekking is easy and having view of Bir village and Dhouladhar mountain range. One can trek to Bir post villages to reach Forest guest house.
Trek to Tribal village, Thathi village
Trek is 16 km round way takes 6 to 7 hrs, trail to Thathi village passing through marred village. Trekking is easy and passing all three tribal villages of Thathi (tribal village) – Kothar Thathi, Kryon Thathi and main village is Chougan Thathi. Houses in villages are old styled having ground floor for cattle's and upper part for them, Houses made up of stone and wooden logs. Villagers depend upon agriculture and cattle's.
Cycling through Oak forest:
Cyling trail is off road and best experience near Camp oak View in Bir Billing valley.
Bird watching in Bir
Camp Oak View is best place for Bird watching in Bir Billing valley of Himachal Pradesh, there are so many species of birds spots here. One can spend time in forest to explore birds.
Visit for blogs for Bir-Billing and more information regarding paragliding, trekking and Camping packages.

Activities around Bir Billing Himachal Pradesh – Paragliding and others.